The 2022 Grand Wagoneer in Clearwater FL

Come See The All-New Grand Wagoneer In Clearwater
The all-new Grand Wagoneer rolls into the Tampa area with tremendous capabilities, and exterior, interior, technology and safety features. If you are intrigued by the new Grand Wagoneer and would like to turn heads all around the St. Petersburg area, contact our sales team to reserve yours today.
Capabilities
The Grand Wagoneer is capable of driving through all kinds of terrain in the Clearwater area, as well as tow up to 10,000 pounds. The all-terrain capabilities of this vehicle combine the Selec-Terrain traction management system, Quadra-Lift air suspension system, and 4x4 abilities, to provide a great driving experience in all terrains. The Grand Wagoneer comes with a feature that allows you to pick which terrain you are driving through so you can optimize the vehicle's performance. The drive modes you can choose from include Rock, Sand/Mud, and Snow.
The towing capabilities allow for the vehicle to tow up to 10,000 pounds, and it has trailer brakes with a rear-view backup camera. The trailer brakes and rear backup camera allow you to confidently tow anything and know that you have full control of your vehicle and the load that you are towing.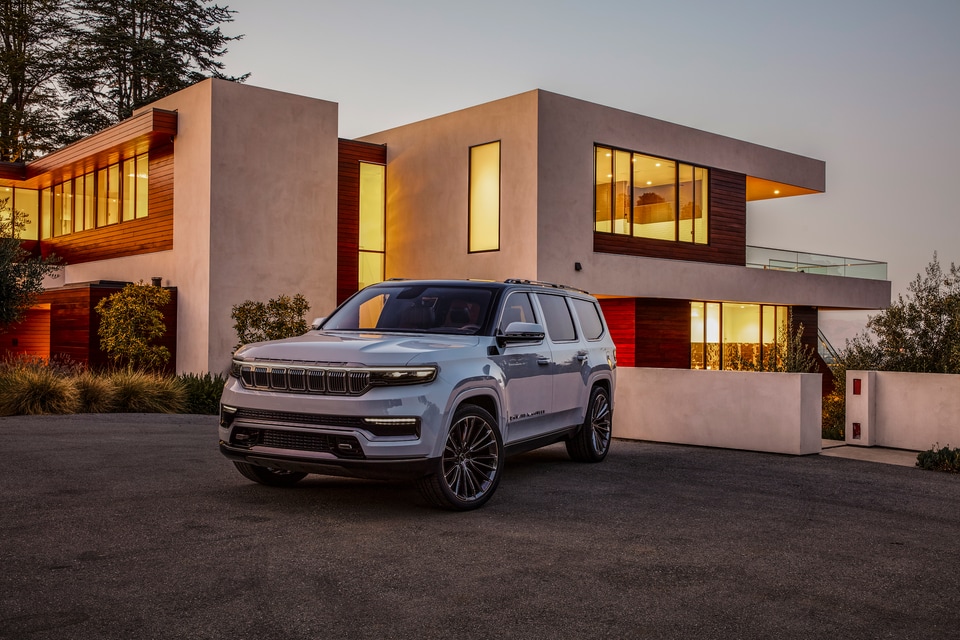 Exterior
The Grand Wagoneer is available to New Port Richey shoppers in four different trims: Series I, Series II, Obsidian, and Series III. These trims all look incredibly similar, but they offer subtle performance and exterior differences.
This new Grand Wagoneer comes with 22-inch aluminum wheels, front and rear LED lighting, and tinted glass to give it a nice sleek look. This SUV is made for those who enjoy the outdoors with exterior features such as a hands-free power liftgate and a rugged design. This vehicle was made to optimize trips to the great outdoors.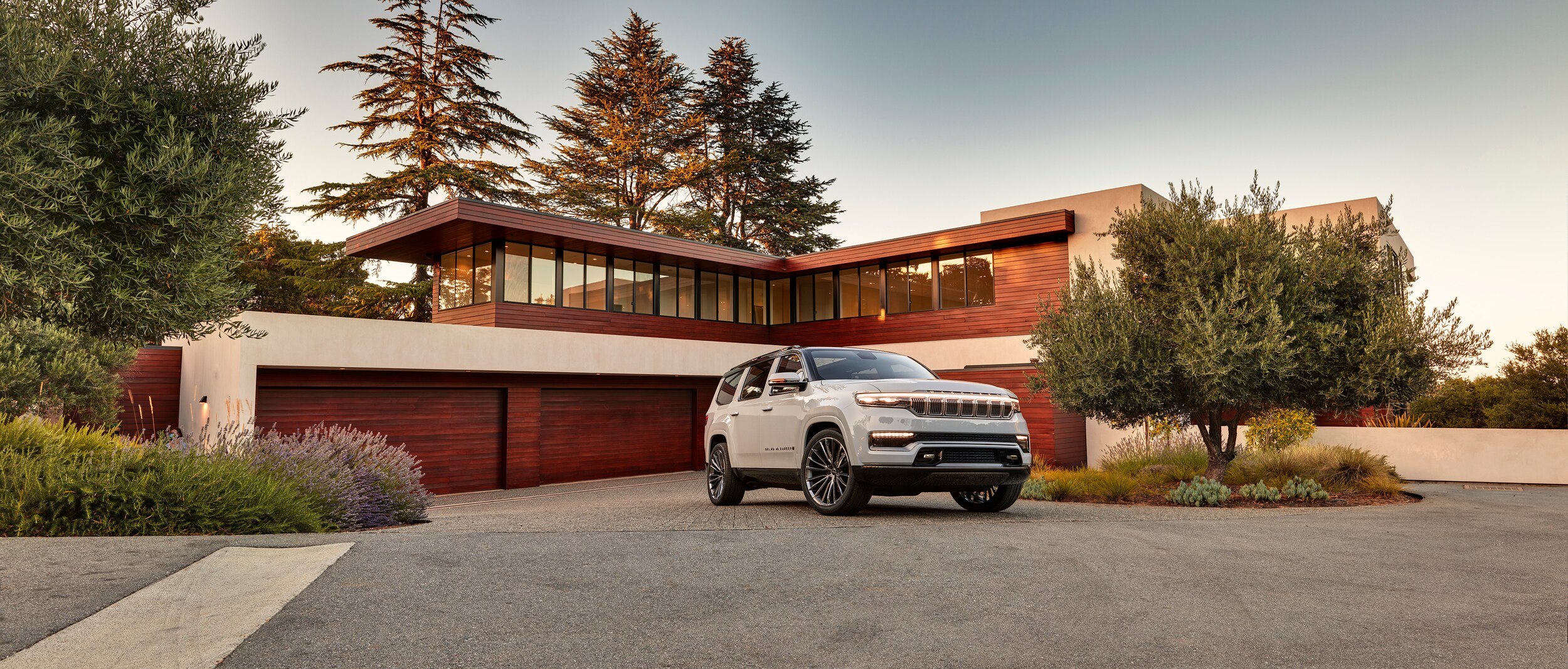 Interior
The interior of the vehicle includes 24-way adjustable seats that have massage and memory capability. The detailing of the interior is also finely crafted to give it a nice sleek look and provide comfort. Since the vehicle is an SUV, it also provides great cargo space with adjustable third-row seating. The vehicle can fit up to seven people, but you can also fold the third row of seats down to optimize cargo space.
The third row of seating can fold completely down, or customized with a 60/40 split. This means that of the three seats that are in the third row, you can decide to fold two of them down for cargo space, or you can fold them all down to get the most cargo space out of your vehicle. In addition to folding the third row, you can also fold the middle row of seats down to achieve even more cargo space.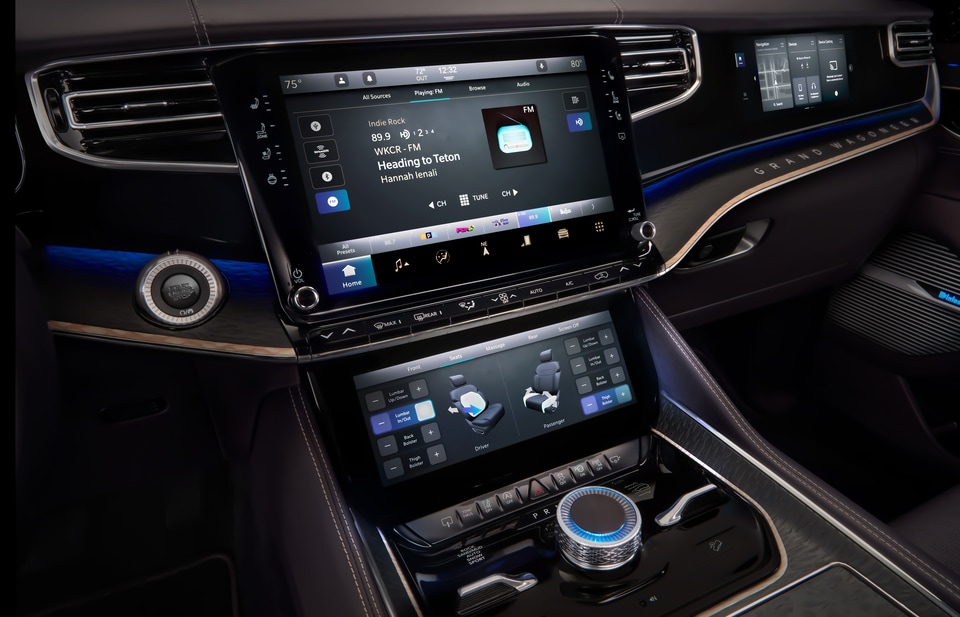 Technology
The technology that is included in the interior of the vehicle includes rear seat entertainment with Amazon Fire TV, a McIntosh entertainment system with McIntosh audio. This interior technology helps provide a comfortable and fun driving experience. Whether you are jamming out alone to some music or driving the family while they watch a movie in the back, this vehicle will keep everyone entertained.
Safety
This vehicle includes a blind-spot monitoring system and 360-degree surround view camera. The Grand Wagoneer also comes with a night vision camera that is able to detect pedestrians and animals. This is great for when you are driving through the different terrains in the dark and need help locating possible animals and objects on the road. Also, there is an active lane management system that will ensure you always stay in your lane.
Reserve Your Grand Wagoneer at Fitzgerald's Countryside Chrysler Jeep, Serving Largo, FL
If you are interested in the new Grand Wagoneer, then contact our sales team today. We can offer you a test drive in the new Grand Wagoneer and let you test out all the new features that are included in this year's model. Also, we can help you leave that same day with the vehicle if you would like to purchase it after your test drive.